Some of The Sites I Use When Finding Out Information


Listed below are some of the sites I like to look at. I have included links to the top three search engines I use, and also links to many other sites about metal detecting and bottle digging. I hope you find the links useful and gain information from these sites as well.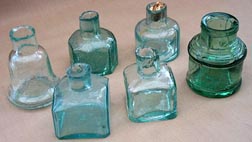 Search Engines
AltaVista You know us as the Internet's original search engine.
Lycos One of the most visited hubs on the Internet reaching one out of every two web users.
Yahoo! With over half a million sites divided into more than 25,000 categories, Yahoo! is both browseable and searchable.

Favourite Sites About The Hobby
Detecting Finds UK My new site just about detecting finds. It has every find possible and pictures too! Well not all of them, but it does have pictures. It has music too. Go on visit now and identify those unknown finds!
The UK Detectornet Great page with loads of information. Links, tips and much more!
Bob Bailey's Page More information about the great hobby.
Bill and John's Page This page is good for identifying those unknown items because of the great amount of pictures.
Gavin and Simon's Page Another page with lots of information and pictures.
Peach Ideas A company which sells all the stuff needed by detectorists at a great price!
Virtual Catalouge Of Roman Coins A site where you can identify those Roman coins.
Gary's Metal Detecting Page Another page with a fair amount of pictures.
Another Metal Detecting Page A page with a fair amount of information about the hobby.
Bob Detects Arizona If you live in Arizona and detect, visit this site.
Bulletman's Site Interested in Civil War relics? If you are visit this site.
Elton's Coventry Website A UK based page with some good city finds found around Coventry.
Folkestone Metal Detecting Club Live in Kent and want to join a club? Visit this site for a club that suits you.
Greg's Treasures A good site with some good information.
The Treasure Seekers Another UK based page. It's got Thunderbirds music on one page even! Well worth a visit.
Metal Detecting and Treasure Hunting in Vermont and New England Another page about metal detecting. It's an American site and it's good!
Detecting At Quaker School A small page with some very nice find pictures.
Bud's Detecting Page Bud's page is very good and has lot's of useful information for the treasure hunter. Great site!
Jim Vokes' Detecting Pages A haven't actually been on all his pages yet, but what I have been on have been good. Visit it and see what you think of them.
Jesse's Detecting Page A brilliant page with loads of info about different aspects of the hobby. Worth a visit some time.
David's Detecting Site This page is an excellent UK page. Show's some of the finds you can get from the UK soils.
Mike's Detecting Page A page with loads of information about detecting. Mike's ICQ number is on the page as well if you want to contact him.
Old Bottles and Detecting A page about not just metal detecting, but bottle hunting too. A section on the site also gives you a chance to buy some finds if you can't find them yourself!
Paul's Detecting Page Another UK based page. Paul uses a Whites XLT for detecting. There is a page about his detector and loads of finds pictures, which are all clearly labelled and identified.
Channel 4's Time Team Channel 4's Time Team website. Yes I know it's archaeologists, but it's good I'm telling you!
Wesley's Norfolk Detecting Page As I live in Norfolk too, Wesley's finds are similar to mine. Mind you I haven't found a rude seal matrix!
The Magical World of The Detectorist I have not looked at this site fully yet, but what I have looked at seems good. Links page, hints and tips, and finds are some of the many pages on offer!
Arty's Detecting Page Arty's page is very good. It is easy to navigate and has some good information on the hobby. It has cool music too!
Bill's Detecting Page This page has one of the best pieces of music I have heard on a detecting page. Oh yeah, it has find photos, and spectrum hints and tips as well.
Bunnie's Detecting Pages Bunnie's pages have loads of information about the hobby and some nice find photos.
Charlie's Detecting Page Charlie detects in Carolina and his page has loads of useful information and links that relate to the hobby. For a first attempt at a page, it's pretty good!
Coin Troller Dennis is proud to say that his page isn't really fancy looking. However, I feel it is an excellent page and that is well worth a visit!
Donna's Detecting Page Donna is a member of English Heritage and this page has loads of info about detecting in the UK. It has a section on English hammered coins and much more. Worth a visit if you are coming to England on a detecting trip.
Eaton's Detecting Page A Fisher C7-7a Quicksilver is Eaton's favourite machine. This site has a whole list of places you could try searching and the treasure hunters code of conduct if you haven't already read this on my page. Go now, visit it!
C-Scope Looking for your first machine? C-Scope offer an excellent range of detectors that range in price. I feel the CS5MX is an excellent machine for the price you pay!
Jay Howe, Metal Detectorist As it is say's on his page, Jay Howe is happy to help! It is a UK based page and like many other excellent pages I have visited, it has music. Oh yeah I do enjoy music!
Jid's Indian Artefact Page It has music. GO, GO, GO!
Joan Allen One of the UK's top supplies of metal detecting products. They stock metal detectors, to barrelling machines and diggers.
John Detects Bama Only seen the page the link goes to so far, but it has some good, precise info. The rest probably is too, which means it should be a good site!
Pennsylvania Detecting A small page, but it's got a links and a find section. It's got an animation of a worm as well that makes the site look nice!
Pete's Page I think this is the only Australian page in my favourite links. It's got loads of info about coins, finds, and why, how and where. Plus it has the added bonus of the option to play some music. Play that funky music!
Port's Detect 2001 A good site with some good information about detecting. They would love to hear from you!
Robert's Treasure Chest What can I say about this site? Excellent! It has loads of find pictures and information that you just have to read, and music that will blow your mind!
Sir Larry's Page A page that I feel mainly focuses upon Minelab detectors. It does have a finds page, a forum and a links section as well though.
Successful Detecting I like this page a lot because it has loads of useful information on subjects that are relevant to the hobby. Forum, chat and links are just a few of the things on offer.
The Treasure Hunters This page not only offers links and find pictures, but also poetry and stories about the hobby!
The Weekend Wanderers Picture gallery, calendar, links and MUSIC all on one page. They also say "NO TO NIGHT HAWKS"!
Thetford Forest Archaeology Haven't really looked at this site yet, but I'm sure it's a brilliant site with the usual links on it.
Tom's Treasures A popular page on the net. It's had a lot more visitors then my site, and you have probably visited it all ready. If you haven't, visit it! If you have, why not visit it again!
Yorkie Bill's Page Yorkie Bill's site is UK based and has loads of interesting stuff. Ummm, Yorkie bar!
Boom Towns And Relic Hunters I don't know what to say at the moment. Visit it and see what you think of it.
B-boy Lox's Site Nothing what so ever to do with the hobby, but it's got a picture of Jesus break dancing on the photo page! Go on visit it. You know you want to!