The CS-5MX - high power with ease of operation - a real scorcher of a detector. You cannot buy a better MOTION machine than the CS-5MX. It's the machine to be seen with, distinctive by its large 'POLO' search-head. The CS-5MX gets results every time.

Every aspect of the CS-5MX is optimised for peak performance. The circuitry is tuned to the limit by skilled metal detector technicians in the C.Scope Quality Controlled Production Plant (European Standard ISO 9001). The power of the CS-5MX is put out through a 25cm SUPERLITE open-centred search-head giving more ground coverage and deeper detection for less weight. There's a POWER BOOST facility which puts even more energy into the coil to amplify those deep, faint signals, AND a highly sensitive signal intensity meter for visual confirmation.

When it comes to MOTION technology, C.Scope's got it sewn up. There's the CS-2M for powerful simplicity. The CS-2MX - a neat, high-performance package. And for those enthusiasts who demand the very most that this type of detector can give, it's got to be the CS-5MX - power detecting at its best.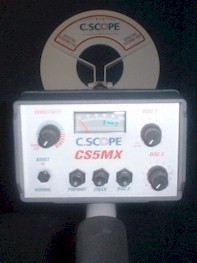 FIELD TEST BY SOMEONE ELSE
"On site, which was a grass field of no known potential, but plenty of signals of all types, I set the controls (of the CS5MX) exactly as mentioned on Page 1 of the operating instructions. Then it was go, and positive signals started almost immediately - a nice silver thimble later dated circa 1663, at about 9 inches depth - not a bad start. The rest of the 2 hour test run was profitable in terms of signals and about 85% of those which sounded good were actually good targets".

SECOND TIME OUT
"The next outing with the CS5MX was much more of a test as it took place on a ploughed field with steep ruts and peaks. Operating in power boost mode was most important in order to amplify the weak signals. This managed to turn up a handsome hammered halfpenny, the only decent find of the day".

CONCLUSION
This is a class machine and at four hundred pounds is good value for money. I found it pretty hot on small silver items and generally very enjoyable to use. Among the finds made during the field test were two hammered coins, a medieval seal matrix and a fragment of a Bronze Age spearhead. The latter item was sent to the British Museum because it contained some organic material which they intend to have carbon dated.